Stupid Dumb Breast Cancer is Ann Marie Giannino-Otis' fierce and unconventional initiative to promote awareness, early detection, and advocacy, with a special focus on how the disease impacts younger people. On behalf of her organization, Ann Marie has been featured in area publications, appeared on TV, local radio, and Huff Post Live, and hosts a series of monthly events. Since its inception in 2012, Stupid Dumb Breast Cancer has raised and contributed over $750,000 to a variety of breast cancer organizations, including Stand Up to Cancer, Duke Hospital, Wilmot Cancer Center, the Upstate Cancer Center, CancerConnects, Personal P.Ink and the Maureen's Hope Foundation.
As a part of the initiative Bravery Bags were born, these are delivered in advance of a patient's scheduled surgery, designed to make life comfortable after their procedure, and to send the message beforehand that someone knows what they are going through and is thinking of them. Each bag is stocked with such items as lip balm, dry shampoo, chocolate, a small pillow, and specially designed note cards – "Things that show we understand the experience they're having," says Ann Marie. Each bag also includes a personal note from Ann Marie. "As these unintended warriors face their upcoming surgery, we would like them to them to know that we survived this battle, and they can, too. We want to inspire them to be brave," Ann Marie says.
Ann Marie communicates regularly with a growing network of patients, their loved ones, and supporters via a variety of social media, where she candidly shares her thoughts and experiences, and welcomes others to join the conversation, discover their own strengths, and discuss their journeys.
Throughout life people overcome challenges such as becoming a parent, building a home, being diagnosed with an illness, divorce, relocation, parenthood by adoption, retirement and hundreds more. These life challenges often leave people lost, seeking wisdom and support.
Wisdo helps communities to overcome these challenges by creating step by step maps with corresponding wisdom, contributed by community guides under the calling, of "being the guide they wish they'd had".
<!– BEGIN IHadCancer Blog Contributor Badge –>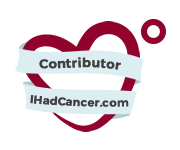 <!– END IHadCancer Blog Contributor Badge –>